Hard Money Construction Loans
Hard Money Construction loans
Hard money construction loans were dominated by small shops that managed to compete well (3). Due to simple supply and demand (5), private money lenders were able to charge higher rates and fees because there was a high demand for money and very low supply (6) (8). Wall Street has paid notice to the above-average, risk-adjusted yields that can be generated and has begun participating buying mortgage notes from groups that are originating (9) (10), or by buying established private money companies (4).
Along with the entrance of Wall Street in the hard money construction loan (11), interest rates on mortgages are historically low in the US (1) (14), and also very low in the EU (12) (13), and furthermore, they keep dropping (2) leading to lower yields for lenders.
Thus, private lenders are diminishing their underwriting standards to write loans (15), as in the subprime mortgage crisis (16) and offering higher LTV ratios (17) (18) and even no ratio loans in order to maintain market share. This is because there is more supply of capital in the market, just supply and demand (7).
Hard money construction loans are a specific type of asset-based loans issued by a private lender wherein a borrower receives funds secured by a real estate object through a mortgage contract. These hard money loans differentiate from other mortgage loans in the fact that they have shorter terms and that interest rates are higher due to their inherent significant risk and generally lower underwriting requirements.
hard money loans usually have terms of less than one year and interest rates of 12% to 18%, plus two to five points.
A point is equal to 1% of the loan amount, so if you borrow $112,000 and the lender charges two points, you would pay 2% of $112,000, or $2,240. Rather than pay points at closing, as you would with a conventional mortgage, you may not have to pay points until the home sells with a hard money loan
There are two main types of construction loans: loans for the renovation of an existing project (rehab loan) and loans for the ground up construction of a new project. In this article, we will be focusing on loans for new construction.
Hard money construction loans are for those who need the funds to get their new construction project started but may not be a good fit for a loan from a traditional lender. Construction loans are typically used to finance the renovation, or new construction of residential or commercial real estate.
Upon closing, a portion of the loan proceeds are used purchase the property and the remaining balance is held in an escrow account and disbursed to the borrower as the project is constructed
The most popular new construction loans are conventional bank loans, hard money private loans and SBA loans for commercial real estate. Usually construction loans are higher interest, and shorter term loans. Unlike a traditional home loan, which is based on the fair market value of the home and determined by the home's condition in comparison to other recent sales, construction loans are based on what the projected value of the residential or commercial property will be once the work is complete.
For experienced investors who are looking to fund the challenging undertaking of building a structure from scratch or finishing a tear-down and gut rehab of a preexisting home, a new construction hard money loan is the ideal way to obtain capital. A new construction hard money loan is a short-term financing option that can be used to pay for the construction of a real estate investment asset. Similar to other hard money loans for construction or rehab projects, a percentage of the capital are disbursed upon the completion of the closing process to cover the lot acquisition and the remainder of the loan is retained in an escrow account. The escrow funds are incrementally distributed at predetermined stages of the project. After the completion of each phase—often referred to as a "draw"—the lender conducts an inspection to ensure the work has been completed before releasing the funds to be used for the next draw. This helps both the hard money lender and the borrower stick to the project timeline and maintain an open line of communication.
Private Money Loans for new construction or renovations, use a portion of the funds to distribute at closing to finance lot acquisition, while the rest is held in escrow.
​These contracts require less underwriting than a conventional mortgage. Flexible underwriting criteria allows investors in new construction to secure funding not available to them through other institutions.
These contracts are concluded quickly. A delay in securing funding could mean missing out on an incredible investment opportunity.
So let´s see basically how the process works
During the underwriting phase of the hard money loan, the builder provides the lender with a scope of work and budget that breaks the project down into phases and specifies how much each phase will cost and how long it will take. All of this is determined in the Draw Schedule.
Later, as each phase of construction is complete, the borrower contacts the lender to inform them that a phase has been completed. The lender then orders an inspection by a 3rd party company who visits the property and verifies that the agreed upon work has been completed.
Once the inspection has been completed and the work verified, the lender reimburses the borrower for the outstanding construction costs. The entire draw process usually takes about 3-5 days to complete.
The rehab budget is used to create a draw schedule, which organizes, appoints, and budgets at which stage of the project certain work will be completed. When a particular phase, or draw, is finished,  an inspection is scheduled to confirm the work has been completed. Once the private money lender receives the confirmation of completion, the funds are distributed.
In other words
A new construction hard money loan is a short-term loan used to finance the construction of real estate investment property. Like other hard money loans for construction or renovations, a portion funds are distributed at closing to finance lot acquisition, and the rest are held in escrow. The construction funds held in escrow are distributed in arrears, or after certain phases of the scope of work are completed. The scope of work is used to create a draw schedule, which designates at which stage of the project certain work will be completed, and at what cost. Once a particular phase, or draw, is complete an inspection is ordered to confirm the work has been done. As soon as the hard money lender gets the confirmation, the funds are distributed. This whole process usually takes about 3 days. This draw process helps both the hard money lender and the borrower by keeping the project on track and within budget.
This entire process usually takes about 3 days. This draw process helps both the private money lender and the borrower on track with the project and spending.
Traditional construction loans are issued by banks typically, hard money loans can be obtained through private investment firms. Hard money construction loans are secured by the real estate to be built and often charge higher interest rates conventional bank loans.
| | | | | | | | | | | | | |
| --- | --- | --- | --- | --- | --- | --- | --- | --- | --- | --- | --- | --- |
| Experience  | Credit Score Minimum | Interest Rate | Points | Advance Rate On Purchase | Advance Rate On Construction | ARV | Property Types | Pre-Pay Penalty | Extensions  | Blanket Loans | Loan Size | Loan Terms |
| High | 660 | 4.99%–10% | 0–2% | Up to 70% Land Value | 100% | 75% | Single Family, Multi Family, Mixed Use | No | Available | Yes | $100K to $2.5M | 12 Months |
New construction hard money loans are asset-backed loans collateralized by real estate. The builder who takes out such a loan is typically unable to secure a conventional loan from a bank, a common issue in today's construction market. For that reason, he or she is generally willing to pay a higher rate of interest to a private money lender in order to close the transaction. Construction loans often include funds for purchasing raw land as well as for building costs, which are paid out in periodic "draws" once the builder has met some pre-defined milestones. Due to the higher risk associated with these types of loans, the lender will generally require the borrower to contribute some of their own cash or equity to the deal. Additionally, borrowers will often have input into the project plans, particularly relating to the timelines and budgets.
When you obtain a no doc hard money loan, in general, a hard money loan for real estate investment purposes, you also have the option of getting a construction loan, called hard money construction loans.
Hard money construction loans are funds that the hard money lender will lend to you in order to execute the actual project. If you are going to spend a hundred thousand dollars on it, obviously you could have the cash and you could just do the work yourself with your own working capital or you request the lender the constitution of a construction loan.
Now construction loans on hard money loans are a little bit different because they don't just give you a hundred thousand and just let you go and play with those funds.
What they do is that they hold these funds in an escrow account, an ad hoc account to serve the hard money construction loan, and they give it back to you as reimbursement in a reimbursement item called "draw" or "draws" in plural.
Thus, when the hard money loan is arranged, you, as the investor or borrower ("borrower" is more adequate from a terminology point of view because the lender is also an "investor") provide a scope of work, as one of the deliverables of the contract.
In hard money construction loans, the borrower promises the lender which activities will be executed within that project and how much each line item will cost, and at what phase you will be doing it.
Due to this concept, the borrower has to perform the renovation work and then get reimbursed for that money spent when the line item activities are approved after an inspection.
For example, you have four different draws, each one $25,000 worth. Thus, you have to show to your hard money lender that you completed that first quarter of your project, have them send an inspector in to look, and make sure that all that work is done, and then they will approve the line item and reimburse your $25,000.
Advantages Of Hard Money Construction Loans
traditional loans for conventional construction are taken from institutions such as banks, while hard money loans are provided by investment groups or investors. The advantage of this form of lending is that it is not impeded by traditional banking procedures, which means that the loan will be granted much faster and also have greater flexibility regarding loan terms.
With most hard money loans, the loan amount is based on the as-is house or lot value combined with repair or construction costs. An additional benefit of a hard money construction loan is that there is no minimum credit score. However, keep in mind that unlike hard money fix and flip loans, experience is essential for an investment construction loan.
Lenders are generally willing to fund up to 70% of the land value and 100% of the construction budget, capped at 75% of the ARV. With interest rates from 9% to 11%, points ranging 1% to 2% and a loan term up to 18 months, seasoned investors rely on construction loans like these for finance their business.
Any seasoned investor knows how crucial a quick close can be. Real estate investing is a growth industry, and good deals move quickly. Experienced hard money construction lenders, can close loans in as little as 48 hours, and have an average close time of 10 days, unlike a conventional loan which takes a minimum of 60 days to close.
When it comes to hard money loans, the overall amount is determined by the combined value of the existing structure and lot along with the anticipated repair and construction expenses. An added advantage of a hard money construction loan is that there is no minimum credit score to be approved for funding. All experienced real estate investors realize just how important a quick closing process can be when it comes to getting a loan. 
Securing a hard money construction loan is vastly different—and more efficient—than the process required to obtain a conventional bank mortgage. First off, there is considerably less paperwork as a hard money loan only requires a few key documents. After you locate the ideal investment property, you will consult with a loan officer and complete our streamlined online application. The loan officer and underwriter will then walk through the deal with you step-by-step and explain the appraisal process should your deal qualify for financing. Next, the hard money lender will generate a term sheet that clearly specifies all of the loan's terms so there will never be any surprise charges. The loan then proceeds to the closing process, after which you will receive your loan and be ready to start diversifying your investment portfolio.
Approval Process Is Faster
Builders, investors and developers with a strong financial background and access to traditional loans still opt for hard money loans to fund their new construction projects because the hard money loan process is faster and easier in most cases. Hard money constructions loans can close in less than a week, whereas bank closings can take 30 days or more.
Specifically, the application process for a hard money construction loan can take a couple days and the approval process can take up to a week. Those desiring to get a project kicked off, or those on a tight timeline will benefit from this swift financing window. In contrast, conventional construction loans can require extensive paperwork that can cause the application process to last weeks. This doesn't include the loan processing period which can take another few weeks or longer till closing.
As the real estate market has changed in recent years, it becomes difficult for developers to access the money of traditional lenders, such as banks, in the short term. Documentation, paperwork and lengthy project evaluation are just some of the reasons why bank lending is difficult to obtain. It is a huge advantage of hard money loans because of the time of approval is very short. Hard money construction loans are a great alternative for all developers who need the financial resources to start a project, if they feel they are not suitable as a candidate for borrowing from traditional lenders, or if they need a quick financial injection.
Hard Money Construction Loans Downpayment
Hard money constructions loans have a higher interest rate than the loans you can get at the bank, and they are secured with real estate property. You can expect a hard money loan lender to ask you for your investment in the project. The percentage, in this case, will depend on your experience and the project itself. You will likely need to invest between 10% and 20% of the total project cost. Bank approval can take weeks, even months. It is exactly why a hard money loan is a great thing. In a few days, you can get funds depending on the lender and your project. That is why reliable and reputable developers with excellent credit ratings often opt for hard money loans when they want to start or finish a project quickly.
Ask about the requirements to each lender you contact, for how much of the borrower's own money must be in the construction project. On a spec loan to a builder, that may run the gamut from no money down to ten percent down with either a free-and-clear or subordinated lot. On a construction-to-permanent loan, you can work with the private-money lender for the construction and then with one of your correspondent lenders to do a rate-and-term refinance out of the hard money construction loan. The private lender will require generally a 20% nonrefundable deposit, which can be rolled into the takeout loan.
Payments And Interest In Hard Money Construction Loans And Some Cons
Although there are many types of loans, it is important to note that this is not like a traditional mortgage where payments are amortized and consist of principal and interest. Hard money loans are generally interest-only, which means that the monthly payment is just the interest due on the loan and does not decrease the overall loan balance.
The payment can either be setup as Dutch, where the borrower pays interest on the full amount of the loan, or non-dutch (also known as "New York Interest") where the borrower only pays interest on the amount of the loan that is disbursed. When evaluating your financing options, it is important to find a lender that offers non-dutch payment options.
Many short-term construction loans require interest-only payments for the duration of the loan, during the construction period. To calculate an interest only payment, take the construction loan amount multiplied by the interest rate, divided by 12 (months per year). For Example: $600,000 loan amount at 10%. $600,000 multiplied by .10 and divided by 12 = $5,000 per month as the monthly payment.
In these hard money construction loans, you still have to pay a 10% annualized rate and two points on those $100,000 of our example, even though you are not getting that money on day one, but after you complete each of these stages or line items agreed within the work of scope annex of these hard money construction loans.
That is why many borrowers are not interested in hard money construction loans while they are affirmatively interested in no doc hard money loans where the money is provided directly to pay the auctioneer or seller of the real estate object instead of depending on on these stages and their approval.
Because let's say that you have an inspection done after you claim to have the stage or line item completed and request the reimbursement. The inspector does not agree that you did the work well.
Now you are out of your pocket and you need a fix to work with the money that you may not have because you're over-leveraged versus the situation of the investor that has the capital in cash, and he could just fix it himself.
The worst part again of these hard money construction loans is that the lender charges you on day one. So let's say you get your loan on January 1st; they will charge you that 10% interest on your hundred-thousand dollars even though you might not even get your draws until March or April which is a lot of time to wait.
Interest Rate And Origination Fee
Now there is a balance between your interest rate and your origination fee and some constructors or borrowers would say that if you are going to execute a very fast project, you should go for a lender that will give you a loan at a very high-interest rate but very low origination fees.
If you will complete your project in just one month, who cares what the interest rate is? Annualized, it is very low.
However, if the points, the interest you will pay, are fixed, with disregard of your completion date, it may not be worth it.
Requirements To Obtain A Hard Money Construction Loan
In hard money construction loans, the requirements that the borrower must meet are not as straightforward as the requirements for conventional mortgage loans, such as FHA mortgage requirements. Let´s see
Familiarize yourself with the builder's or subcontractors' draw process. Individual private lenders can be more liberal and pay a builder directly after a site inspection. This is not the norm, however, and a larger lender will require that a title company be involved and pay the builder and subcontractors directly after lien waivers are received. Contact your local title company to see if it is doing any new construction loans, and if so, familiarize yourself with the lien laws in your state.
In order to get approved, the borrower will need to have completed architectural plans, engineering, budgets, and a scope of work. Plans, engineering, and fees are generally referred to as "soft costs" and some lenders will allow the borrower to finance those into the overall loan.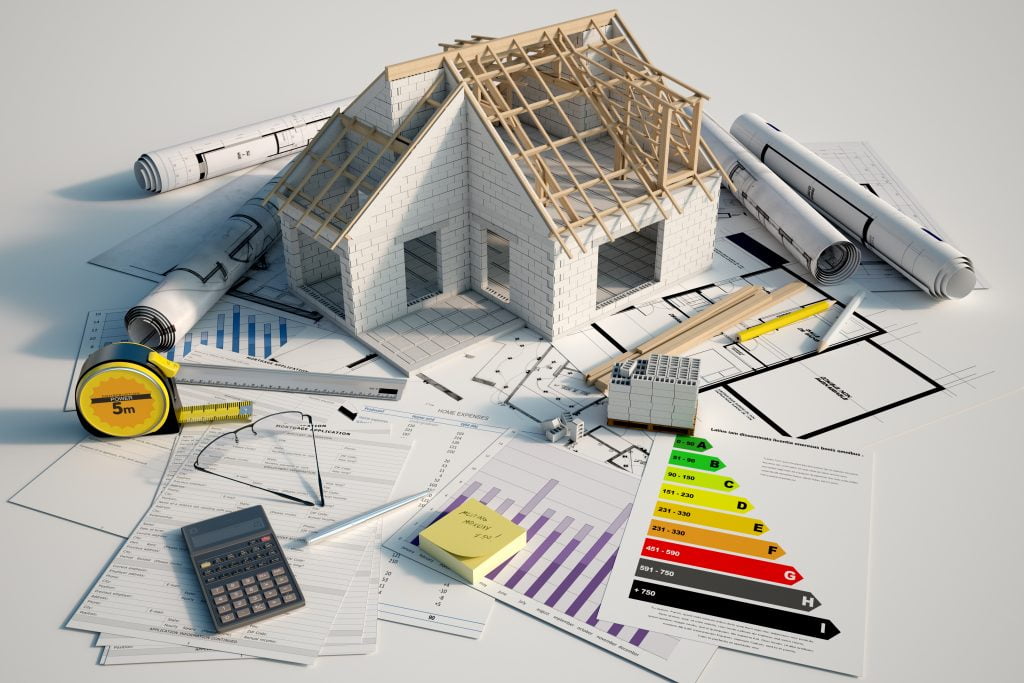 Once the borrower has the necessary plans and entitlements, they will fill out an application with a hard money lender. In addition to the application, the lender will want to know the borrower's credit score, any previous experience, and the plans and scope of work for the project.
Based on that information, the lender will then issue a term sheet to the borrower that outlines the loan terms under which the lender is prepared to offer a loan. These terms can vary, but usually range between 70% and 85% LTC (Loan to Cost) based on the overall project budget. This means that the borrower will be responsible for paying closing costs as well as 15% to 30% of the cost of construction.
Once the borrower accepts the terms, the lender will order an appraisal of the property from a licensed appraiser. While the appraiser is conducting the appraisal, the lender collects any outstanding items and makes sure the file is complete. Once the appraisal is compete and approved, the lender will complete the final underwriting and fund the loan.
Loan terms can vary depending on each project and hard money lender but typically the loan terms for construction & development typically consist of the following:
Up to 75 percent loan to value ratio on commercial construction loans
Up to 85 percent loan to value ratio on residential construction loans
Up to 85 percent with a mezzanine loan or preferred equity
Up to 36 months loan term
With provisions to roll into a permanent mortgage
Non-recourse construction loans available on business loans
Fixed interest rate
When you get a hard money construction loan, the lender is going to ask for some information. Anyway, for the most part, they would be looking at the property itself.
Obviously, the lender wants to see the address of the real estate object, and this will be studied by the underwriting team.
You, as the borrower, will have to justify why you think that this is a good deal to them.
Payments Of Interest
Most hard money lenders expect interest-only payments monthly while the loan is outstanding, but some may allow the interest to accrue and not require it to be paid until the flip is complete. It might be worth asking your lender if you can wait to pay the loan interest until after you sell.
Many short-term construction loans require interest-only payments for the duration of the loan, during the construction period. To calculate an interest only payment, take the construction loan amount multiplied by the interest rate, divided by 12 (months per year). For Example: $600,000 loan amount at 10%. $600,000 multiplied by .10 and divided by 12 = $5,000 per month as the monthly payment.
First Position Lien
A hard money lender, similar to a bank, will hold the first position lien on the home until the borrower repays the loan. Still, the borrower will be the owner and hold the deed, of course.
Location
A private lender will only underwrite a new construction loan if the site location is available for the construction of real estate objects.
 In order to qualify for a construction loan, the property must already be entitled for the type of building that the real estate investor wants to construct.
If the purchase and repair cost vs. the resale value makes sense and the borroweris trustworthy, a hard money lender will make the loan.
Hard Money Construction Loan Limits
No legal limits as the FHA loan limits, for example. I see that the maximum for a loan of this type is three million dollars, with a modal average of less than a million.
Downpayment
If you are a lender, you will be looking to ensure that your prospective borrowers are equally prepared to contribute some capital to the project as well. The fact that you will have cash readily available for the construction project as a downpayment shows that the project is both serious and is worth risking a down payment to get the loan you need to finish the construction.
In evaluating the borrower, hard money lenders aren't usually worried by borrower qualifications such as debt-to-income ratios. In some cases, they may want to see an applicant's documents such as tax returns, bank statements, and credit reports. Nor do they care if down payment funds are borrowed.
Good Credit Score
The lender will require you to have a credit score of about 630 or above. Under 630, they will charge the borrower with a higher interest rate, more points, or they may not grant you the loan at all.
Borrowers with credit scores lower than 680 will be able to borrow slightly less and will pay the highest costs. The minimum credit score is 630.
Debt To Income Ratio
It is generally speaking, a no ratio loan, as the debt-to-income ratio is is not a parameter that I see that the hard money construction lenders are taking into consideration.
Lot Lien
Know whether your lender is comfortable with including some or all of the lot cost in the loan. Ideally, a lender wants a lot to be free and clear or at least subordinated to the first-position private-money deed of trust. Some lenders may fund as much as 70 % LTV of the appraised value and allow some of the lot cost to be funded into the deal.
Scope Of Work
Unlike other mortgage loans, in hard money construction loans, the lender wants to have a scope of work, which is a document issued by the borrower. They want to see what kind of work would be performed on the property, with the actual numbers attached to it. Therefore, it is good to get a contractor to come by, take a look at the property, and give you an accurate bid before you actually get a hard money construction loan.
Experience In Construction Projects
The borrower will require to see the experience that you have obtained in different properties in the past. Is this your very first project, do not lie. Tell them the truth, but if you have more experience, let's say five projects or more in the past two years, they're gonna give you a significant discount and a better LTV ratio because they will trust you more, and they think that you are able to do the project as you said you will. I prefer to always work with the same lenders in hard money construction loans because I receive better conditions.
Rates And Fees
The typical builder who used bank financing in the past may balk at a six-month loan with a 12 percent interest rate and 4 points, for example, but you must show them the profits they can make on a deal that is consummated, rather than waiting on the sidelines with no funding.
For a presold loan, if the end loan costs are rolled into the deal and 5 percent to 10 percent of the project's equity is allocated for points and fees for the new construction deal, then the clients may be happy they can get a project under way and completed, and often in a shorter time frame than traditional financing.
Bank Statements
The lender might want to see some bank statements from you. Probably from the last one or two months, or more commonly, the last three months. With this, you will show your liquidity, meaning the money that you can use right away. Less liquid, but also admissible, are stocks, bonds, mutual funds, or straight-up cash, as we described before.
Assets To Pledge To The Hard Money Construction Loan
The lenders are not interested in the real estate you own, because you are not going to be able to sell your real estate and use that as cash right away. Thus, the lenders will be watching mostly at liquid assets: so watching liquidity down-payment, construction costs, closing costs, and six months of your monthly payments
Tax Declarations
Likewise, in hard money construction loans, the lenders are not interested in your tax statements at all, and this is one of the reasons why these loans are called no doc hard money loans too.
After the requirements are met, normally these hard money construction loans are wrapped up and closed in about 10 to 15 business days, and they can probably go even faster in some cases.
Construction-to-permanent Loans And Hard Money Loans
As with most hard money loans, private construction loans are intended for builders and real estate investors that do not intend to occupy the property as their primary residence once it is complete. Therefore, hard money construction loans are not intended to be used by consumers who want to build their dream house. For owner-occupied borrowers, a construction-to-permanent loan might be a more suitable option.
Most often, construction loans are used by experienced builders to quickly and seamlessly finance construction of single family spec homes, apartment buildings, or subdivisions.
Business Case For A Hard Money Construction Loan
So here the business case that I would like to explain to you is the case of a loan required to finish an existing project. The borrower has already started the project and is in a stage where the requirement arises.
Would a hard money lender be willing to give the borrower a hard money construction loan of $100,000 for the completion of an ongoing project, if the project got to that point and the borrower needs a loan to finish the home?
Answer
Yes, there are several hard money lenders who would lend $100,000 for the purpose of construction completion and they could issue the loan in less than one week.
Pricing would probably come in at the following terms:
$100,000 Loan Amount
9.99% Interest-Only
$833/mo Monthly Payment
12 Month Term
No Prepayment Penalty
For this situation, the total cost of the new home she was building would be approximately $400,000. A hard money lender would be okay with a small $100,000 loan against a $400,000 home because it's a very safe, low Loan-To-Value (LTV) loan.
One requirement that a lender may ask of the homeowner is that the loan is paid off as soon as the construction is completed. The reason they might include this language in the terms is that most hard money lenders will not finance consumer loans, especially owner-occupied loans. And once the home is completed, the homeowner will be moving into the home to occupy as their primary residence and will need to obtain permanent financing.
Many hard money lenders don't want to take the regulatory risk of having a loan on their books that they know will be dancing around the federal and state regulations or the covenants of their fund, which often excludes owner occupied 1-4 unit consumer loans.
The best thing a homeowner could do if they had a hard money construction completion loan requiring payoff when the home is completed is to refinance into a conventional (Fannie Mae or Freddie Mac) loan. The pricing would be much better than the hard money loan. At today's conventional mortgage rates, they'd probably be able to get a $100,000 at a rate just under 4.00% where the PI payment would come in around $470/mo.
In summary, if this homeowner building a custom home and runs out of money, a hard money lender would gladly step in and lend the investor the remaining $100,000 to complete the project. And this could happen in less than one week.
Let´s see another case
Hard money lenders base the amount you can borrow on the home's after-repaired value (ARV).6 If a house costs $80,000, but the ARV is $160,000, and you can borrow up to 70% of ARV, you can borrow $112,000. After paying the $80,000 purchase price, you'll have $32,000 left for closing costs (though you might be able to negotiate for the home's seller to pay them), lender fees, rehab, carrying costs, and selling expenses. These include items such as staging, marketing, and real estate agent commissions. If you can stick to that budget, you won't need any money out of pocket to flip the home.
The $2,240 in points will take up a significant chunk of that $32,000 budget, though, and if you're paying 15% interest for six months, your total interest cost on $112,000 will be $8,400. After these two significant expenses, you'll have just $21,360 for everything else—less if you had to pay closing costs. But if the home does sell for $160,000, you're looking at a $48,000 profit, minus taxes, for six months of work, potentially without writing a single check from your bank account.
Risks In Hard Money Construction Loans
Even if you qualify for a loan with a down payment, you'll pay more when you're borrowing for a hard money construction loan than when you are borrowing to buy a primary residence. That is because hard money lenders see these projects as a riskier proposition.
From sudden increases in the cost of materials during construction to environmental and structural issues like unsuitable soil, infestations, hazardous conditions or other issues discovered along the way, unwelcome surprises during a construction process can increase construction expenses and threaten adherence to a scope of work schedule.
Due diligence activities at the front-end of the design phase, such as a Phase 1 Environmental Site Assessment, a Geotechnical Site Investigation and builder inspections can help to identify potential issues early in the project so they can be resolved or avoided from a budget and schedule standpoint. Employing a design-contractor team to manage these due diligence items is a smart means of managing project risks and preserving cash resources.
Process To Close A Deal
The process of securing a hard money construction loan is much different than that of a conventional mortgage. Unlike a conventional loan, which requires a significant amount of paperwork, a new construction loan requires relatively light documentation. Once you have completed the new construction loan application, the loan officer and underwriter will review the deal with you and order an appraisal if the deal fits! The underwriter will ask questions about your experience, as well as request copies of the construction plans and other relevant documentation. From that point, the lender will issue a written term sheet that outlines all the loan's details so there are never any hidden fees. The loan then moves to processing where the few required documents are collected, and ultimately the loan is closed by an attorney.
Upon closing, a portion of the loan proceeds are used purchase the property and the remaining balance is held in an escrow account and disbursed to the borrower as the project is constructed
Available Variation Types Of Construction Loans
Construction-to-permanent loans. These loans are good if you have definite construction plans and timelines in place. In this case, the bank pays the builder as the work is being completed. Then, that cost is converted to a mortgage at closing. This type of loan allows you to lock interest rates at closing, which makes for steady long-term payments.
Construction-only loans. Construction-only loans must be paid off in full once the building is complete. It's a good choice if you have a large amount of cash to work with or you're confident that the proceeds from the sale of a current property will cover another build. Here, if you need a mortgage to cover the cost, you'll have to search for the lender yourself and be approved a second time.
Renovation construction loans. This type of loan is used if you're buying a fixer-upper. In this case, government programs are available and the projected cost of any renovations you plan on doing to the property is wrapped up in the mortgage, along with the purchase price.
New construction loans are usually long term loans aimed at spacing out the total cost to build or buy new construction units over a span of 5 to 25 years.
Hard money construction loans typically last no more than a few years.
Construction Projects Suitable For Hard Money Construction Loans
There are several different types of new construction projects that would benefit from access to hard money. These projects are initiated by individuals, homeowners, corporations, other business entities, non-profit associations, privately funded schools, hospitals, publicly traded companies, etc.
Construction projects come in all different shapes and sizes, and include:
Residential Construction. Construction work that is being performed on a single-family residence or a residential dwelling with less than 4 units. Apartment and condominium complexes would most likely be considered a commercial project unless it only consists of a few units and the owner occupies one.
Commercial Construction. This is the construction of any buildings or structures for commercial purposes, including restaurants, grocery stores, high-rises, shopping centers, sports facilities, hospitals, schools, etc.
Industrial Construction. This is a niche segment of the construction industry. These projects include power plants, manufacturing plants, solar wind farms, refineries, etc.
Role Of The Broker In These Loans
To receive compensation for their work, brokers must demonstrate that they have brought value to their side of the transaction.
For builders or homeowners, you have connected them with a source of funds for their transaction that would be difficult or impossible to close at a bank.
For the private lender, the broker adds value by presenting a full package with 1003 and supporting financials, so the underwriting of a potentially profitable deal can proceed efficiently and effectively.
I would suggest the broker to work closely with the lender to have the compensation tied to a front-end closing, monthly payments or when the hard money lender gets paid off. The compensation will increase or decrease according to how long the broker that participated in the hard money construction loan is comfortable waiting to get paid.
Further Readings
We have interesting articles about non-conventional mortgage loans. The basic ones we will recommend to you are stated income loans, where we discuss if they are currently legal or not, how can you obtain one, and the situation of these loans in California. We are also covering other non-conventional mortgages, such as the ITIN mortgages, luxury home financing that is a figure similar to the jumbo loans, the no ratio loans that do not consider the debt-to-income ratio during the underwriting process, and those loans offered by Funding For Flipping.
No doc hard money loans and the very similar hard money construction loans.
If you are into more conventional mortgages such as FHA mortgages, I suggest you read the following related articles described below.
We explain the FHA loan requirements completely, with the current limits for this year. We also go through the appraisal guidelines, and moreover, we are worried about the peeling paint and why it can be an issue.
Completing forms is necessary, so we also study the number format of an FHA case and how to submit an FHA file, how to complete the form HUD 92900, the form for the FHA notice to the homeowner, and the FHA Financing Addendum.
Regarding special housing programs, I would like to include the FHA Back To Work Program.
Furthermore, there are two conflicting situations that can occur that are the situation of a conditional commitment and the identity of interest.
I am David, economist, originally from Britain, and studied in Germany and Canada. I am now living in the United States. I have a house in Ontario, but I actually never go.  I wrote some books about sovereign debt, and mortgage loans. I am currently retired and dedicate most of my time to fishing. There were many topics in personal finances that have currently changed and other that I have never published before. So now in Business Finance, I found the opportunity to do so. Please let me know in the comments section which are your thoughts. Thank you and have a happy reading.