Teacher Background Check
Many individuals who want to work in the education system may be wondering about the details of a teaching background check.
The background checks required for teachers are some of the most intensive required by any industry, and most people think they know what to expect. However, there are some aspects that come as a surprise to many applicants even after gaining their degree.
There are five things that no one mentions and are often overlooked.
Not only are there state and local laws that dictate the exact background check process, there are also extensive federal laws that must be followed at a bare minimum. Even after passing a background check, many places won't tell you that you need to get a check at least every 5 years.
Before beginning a teacher background check process there are several things that any potential applicants need to know and do.
#1. Find Out What's On Your Teaching Background Check–Run A Self Check
Individuals who are interested in becoming an educator of some kind and are concerned about the background check portion of the process should run a background check on themselves. This will give individuals an idea of what will show up on the official background check when the time comes and allow them to fix any errors or prepare any explanations for various things that will show up on their background check.
Before running a self-check it's important to know what kind of checks will be performed as part of the background check in your state so that you can perform the proper checks. A great place to start is to look at the checks that are required at the federal level for child care employees. This will act as a baseline, since all states must follow these requirements at a minimum. This includes the following checks:
FBI Fingerprint Check
National Sex Offender Registry Check
State Criminal Registry
State Sex Offender Registry
State Based Child Neglect Registry Check
Beyond these checks, the next thing to check is the local laws surrounding the background checks required for teachers. These checks are often very similar and in many cases only vary by how often the checks must be completed.
Keep in mind that many states do not have any specific background checks required for teachers. Instead, the background checks required for teachers are the same as the ones required for all child care employees. With that being said, be sure to check for both of these requirements in your state as it is fairly common for child care background checks laws to be more intensive at the state level then what is technically federally required.
Finally keep in mind that the FBI fingerprint check will return criminal history information for as far back as possible as there are no federal limits on how far back a background check can go.
How To Get A Background Check For Teaching (4 Steps)
There are two main ways to run a background check on yourself. The DIY method is the most tedious but will also supply the most official documents and is arguably more reliable than most methods. Many people might also consider the DIY method as a way to avoid paying the fee that is required of background check services. However, it is important to keep in mind that although the prices of an online background check service may seem expensive, DIY checks also cost money. When performing multiple DIY checks it is also common for the total fee to rise above what would have been paid to a private background check service.
Step 1. Starting with the easiest check first, search local sex offender registries. It's extremely easy and completely free.
Simply access either the National Sex Offender Registry website or the sex offender registry website that is specific to your state.2 Simply enter the name into the search bar to perform a search.
Step 2. Search state criminal and court records.
State criminal records are slightly more involved to access. One of the best ways to do this is to access the website for the local county court clerk and see if there is any information about requesting court records. The county court clerk will be able to access any court records for the county that match a specific name.
Besides going through the county court clerk for criminal records, most states have online platforms that allow individuals to request their own criminal history through the local or state police website. Simple navigate to the official state law enforcement site, and follow instructions for background checks or criminal record services.
Related Reading: How to run a criminal background check on yourself in all 50 states
Step 3. Check the state child neglect and abuse registry.
This is relatively easy in most states. The most reliable way to do this is to simply perform a google search of: "State Child Neglect Registry Check" This should take users to the website of the state's department of health and human services or a similar agency.
On the website there should be steps to perform a check or at the very least a number individuals can call to learn more information.
Don't neglect this step! Data entry errors DO happen, and if your name appears erroneously, there are ways to remove it before you take your teaching background check.
For example, in Nebraska the Nebraska Department of Health and Human Services offers a SELF check option for individuals who wish to see if their own name is in the registry.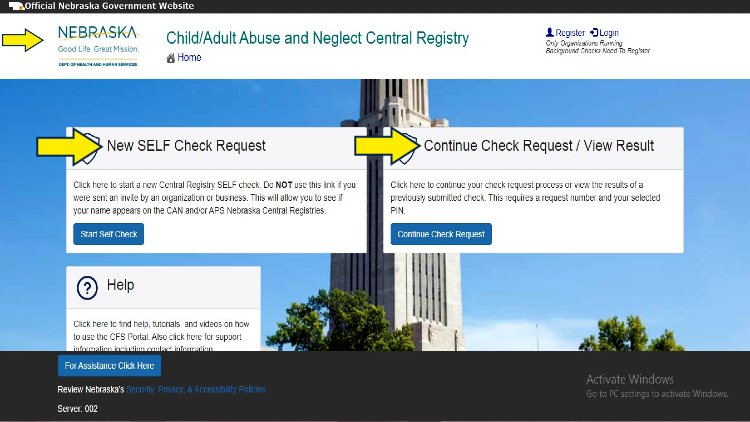 Another option to avoid going through and performing each check individually is to work with a reputable background check agency that can do these checks for you. There are tons of background check agencies that can specialize in a variety of checks, however most of the checks that are required of teachers are fairly standard.
It should be extremely easy to find a background check service that can check the necessary sex offender registries as well as state and national criminal history information.
Not only is this an easier option but it is far quicker than the DIY method. Just keep in mind that in general, there won't be any official documents returned as would be the case in getting a check through the state police or requesting court records directly from the county clerk recorder.
Step 4. Search national criminal records.
This step is done by submitting fingerprints to the FBI's Identity History summary system.
#2. How Long Is a Background Check Good For (How Often Do Teachers Have to Get Background Checks)
At a minimum, teachers will need to undergo a full background check every 5 years. This is true for not just teachers but anyone that works with children unsupervised. As mentioned, many states have adopted their own laws regarding background checks for child care employees that are more intensive that the federal requirements.
In many of these states there are laws that require teachers to undergo background checks every 3 years, rather than every 5.
#3. Disqualifying Offenses For Teaching Clearances (Teacher Disqualifications)
When getting a teaching background check, the list of disqualifying offenses is also dictated by the federal laws regarding child care background checks. The list of disqualifying crimes doesn't include anything out of the ordinary and consists of the following:
Refuses a background check
Knowingly makes a false statement regarding their background check
Is a registered sex offender
Convicted of a Violent Misdemeanor as an adult, against a child
Convicted of any of the following felonies: Murder, Child Abuse or Neglect, Crimes against children, spousal abuse, rape, sexual assault, kidnapping, arson, physical assault, drug related offense in the last 5 years.
States will also have their own disqualifying offenses that will be even more thorough than the federal disqualifiers. It's also important to keep in mind that anyone with a criminal history of any kind will likely be investigated further. Even if there is a conviction uncovered during the federal background check that is not listed as a disqualifying offense, there is still the possibility that they will not overlook the conviction and it will be cause for disqualification.

This is the type of situation where it is good to be prepared as the individual conducting the interview will likely ask questions about anything that showed up on the background check. Having a response prepared that not only explains the circumstances of the conviction but also includes the steps the individual is taking to better themselves will be a huge boost to their odds of getting hired.
#4. Teacher Background Checks By State: Requirements, Certification, Forms
As mentioned, each state has specific laws and rules regarding the background checks required by teachers and all child care employees. Knowing all the small details and things that make your state unique is extremely important when it comes to having no surprises during the teaching background check process.
Use the table below to learn about the background check requirements in your state as well as the certification and licensing requirements, as well as timelines, agencies used and more.
Bureau Of Criminal Investigation (BCI Background Check)
Although an FBI fingerprint-based check is required by all teachers and child care employees in the country, many states will actually have another state agency perform the check as well. This is not always the case but some states will require teachers to get a fingerprint based check through the state police or state BCI in addition to the Identity History Summary Check that is performed by the FBI.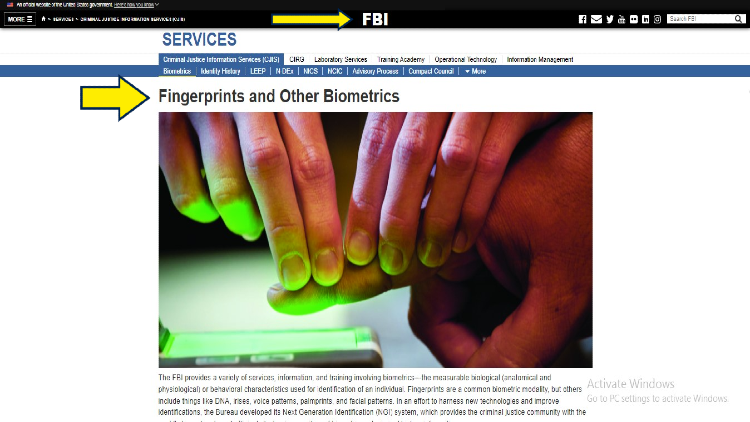 Besides the checks that are often required by the BCI, in many states the BCI can be a great option for performing a self-background check as a means of preparing for the official background check. Since the BCI check is often a fingerprint-based check it will be far more thorough than the name-based checks that can be performed using the DIY method or a reputable background check agency.
PA Teachers Clearances
Pennsylvania has one of the slightly more strict policies when it comes to a teaching background check. Although they do follow the federal rule of only requiring teachers undergo a background check every 5 years, they also require that the criminal history check is performed both by the FBI and by the Pennsylvania state police, making it one of the few states that essentially double checks the information uncovered by the FBI.
#5. Laws About Background Check: Schools Teaching Clearances
The laws surrounding teachers' background checks are changing pretty frequently. For example the federal laws that dictate the requirements for all child care employees in the U.S. are only a few years old and many states are still working on implementing these new laws fully.
Beyond this each state, and sometimes county, has their own unique laws for child care employees and often having even more laws and regulations regarding the background checks for child care employees that are also educators. Besides the laws surrounding the criminal background checks, more and more states are adopting laws and practices that ensure the educator has numerous certifications and licenses that deal with the states specific education policies.
Utilizing resources like the Child Care Technical Assistance Network as well as the website for your state's Department of Education are essential to make sure nothing out of the ordinary happens during the teaching background check process, which can make a long process even longer.
Frequently Asked Questions About Teaching Background Checks
What Kind Of Background Checks Do Teachers Have to Undergo?
Teachers undergo one of the most intensive background check policies for any major industry. Teachers are required to undergo an FBI fingerprint-based background check, national criminal history checks, state criminal history checks, sex offender registry checks, and child abuse and neglect registry checks. These are just the minimum requirements, many local governments also require drug tests, state police background checks and more.
How Many Levels Of Background Checks Are There for Teachers?
There are generally no official distinctions for a background check. However, most people would say there are 3 main levels: Level 1 is a basic identity check using a name and sometimes a social security number, Level 2 is the term used for fingerprint background checks run at the state level and sometimes federal level, and Level 3 checks involve addition searches through government databases that list people and entities that are barred from federal work or assistance.
Is There a Background Check For Substitute Teaching or Techers?
Substitute teachers are generally required to undergo the same background check as full-time teachers. Federal laws surrounding child care background checks require that anyone who will have unsupervised access to children for any amount of time undergo the full background check process.
A teaching background check can seem overwhelming and it is one of the most intense checks out there. Luckily, with such strict federal laws regarding what is required, it is easy to be prepared so long as individuals familiarize themselves with each step of the teaching background check process.
Are Background Check School Requirements Different Than Teaching Disqualifiers?
In general, the requirements for working at a school or teaching are the same regarding background check disqualifying offenses.
References
1Nebraska Government. (2022). Home. Child/Adult Abuse and Neglect Central Registry. Retrieved June 29, 2022, from <https://ecmp.nebraska.gov/DHHS-CR/>
2The United States Department of Justice. (2022). Home. Dru Sjodin National Sex Offender Public Website. Retrieved June 28, 2022, from <https://www.nsopw.gov/>
3United States Government. (2022). Identity History Summary Checks. Federal Bureau of Investigation. Retrieved June 28, 2022, from <https://www.fbi.gov/services/cjis/identity-history-summary-checks>
4U.S. Department of Health and Human Services. (2022). Disqualifying Crimes. Child Care Technical Assistance Network. Retrieved June 28, 2022, from <https://childcareta.acf.hhs.gov/ccdf-fundamentals/disqualifying-crimes>
5U.S. Department of Health and Human Services, Administration for Children and Families, Office of Child Care (OCC). (2022). Background Checks: What You Need To Know. ChildCare.gov. Retrieved June 28, 2022, from <https://childcare.gov/consumer-education/background-checks-what-you-need-to-know>
6U.S. Department of Health & Human Services. (2022). Home. Child Care Technical Assistance Network. Retrieved June 28, 2022, from <https://childcareta.acf.hhs.gov/>
I am David, economist, originally from Britain, and studied in Germany and Canada. I am now living in the United States. I have a house in Ontario, but I actually never go.  I wrote some books about sovereign debt, and mortgage loans. I am currently retired and dedicate most of my time to fishing. There were many topics in personal finances that have currently changed and other that I have never published before. So now in Business Finance, I found the opportunity to do so. Please let me know in the comments section which are your thoughts. Thank you and have a happy reading.